The Silk Road, a network of ancient trade routes that connected the East and West, remains one of the most intriguing and historically significant pathways of human civilization. Stretching over 4,000 miles and passing through a diverse array of landscapes and cultures, the Silk Road offers a captivating journey for modern travelers. In this article, we'll embark on a virtual expedition along this fabled route, exploring the rich history, vibrant cultures, and enduring legacies that continue to beckon adventurous souls.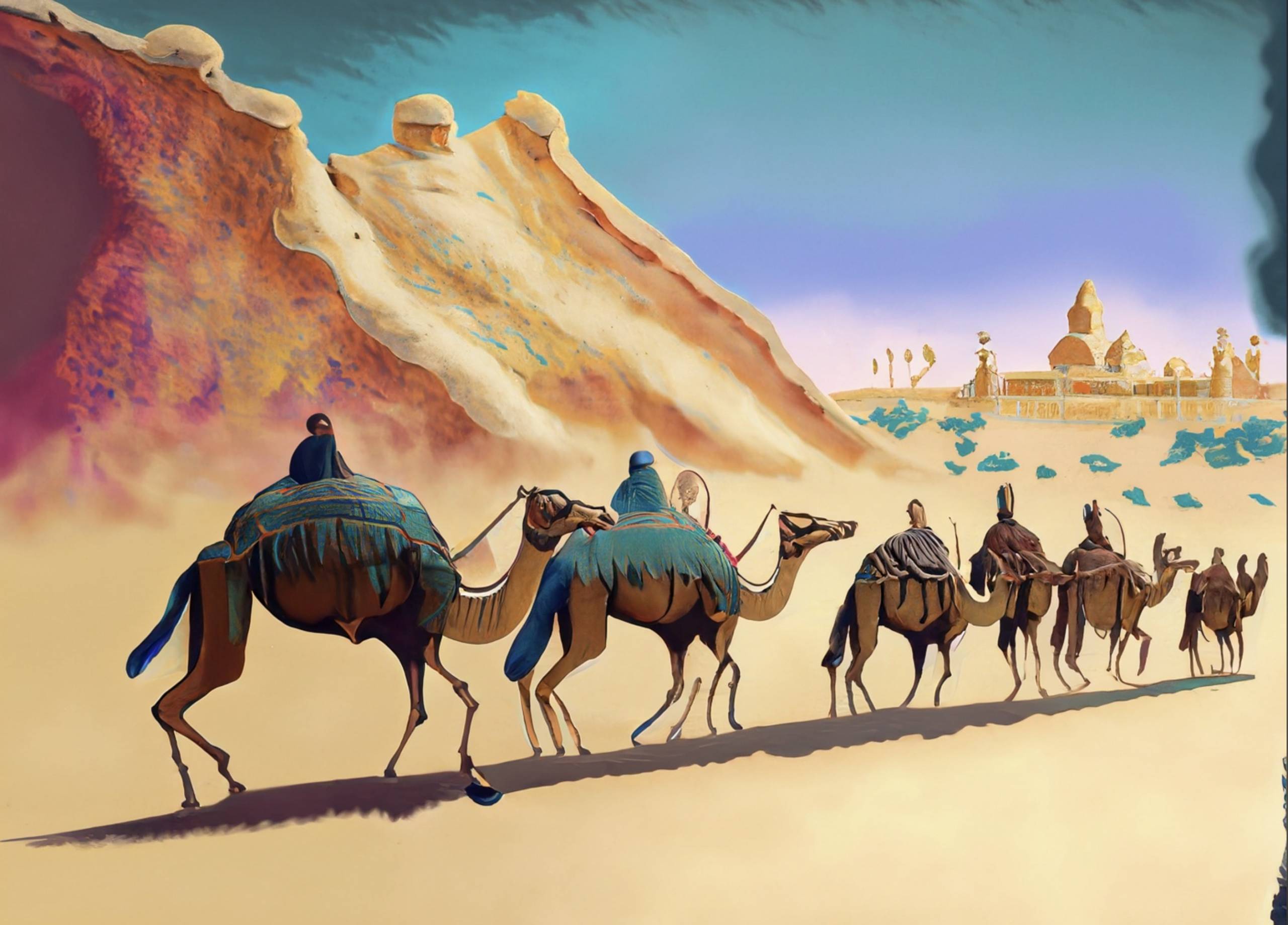 Xi'an, China
Our journey begins in Xi'an, the ancient capital of China and the eastern terminus of the Silk Road. This city is renowned for the Terracotta Army, an awe-inspiring collection of thousands of life-sized clay soldiers guarding the tomb of China's first emperor, Qin Shi Huang. Explore the city's well-preserved city walls, bustling markets, and sample delicious local cuisine.
Dunhuang, China
As we move westward, we reach Dunhuang, a vital Silk Road oasis. Here, you can explore the mesmerizing Mogao Caves, an intricate system of Buddhist cave temples adorned with stunning murals and sculptures. These caves served as a hub for cultural exchange and trade along the Silk Road.
Samarkand, Uzbekistan
Crossing into Central Asia, we arrive in Samarkand, a city that has long been a symbol of Silk Road opulence and grandeur. Samarkand's Registan Square is a masterpiece of Islamic architecture, adorned with magnificent blue-tiled mosques and madrasahs. The city's bazaars offer a glimpse into the bustling trade that once thrived here.
Bukhara, Uzbekistan
Continuing through Uzbekistan, we encounter Bukhara, a city steeped in history. Bukhara's old town boasts well-preserved medieval architecture, including the Ark of Bukhara, an ancient fortress, and numerous mosques and mausoleums. Stroll through its narrow, winding streets and soak in the atmosphere of a bygone era.
Shiraz, Iran
As we make our way towards the Persian Gulf, Shiraz in Iran beckons with its rich cultural heritage. Known as the "City of Poets," Shiraz was home to renowned poets like Hafez and Saadi. Visit their tombs and explore the exquisite Nasir al-Mulk Mosque, often referred to as the "Pink Mosque" due to its stunning pink-tiled interior.
Istanbul, Turkey
Our journey concludes in Istanbul, where East meets West at the crossroads of Europe and Asia. Explore the historic neighborhoods of Sultanahmet, home to the Hagia Sophia and Blue Mosque, and the vibrant Grand Bazaar, where traders have plied their wares for centuries. Stroll along the Bosphorus and savor a cup of Turkish tea while admiring the stunning skyline.
The Silk Road represents more than just a trade route; it's a testament to human ingenuity, curiosity, and the power of cultural exchange. As you trace the footsteps of ancient traders and explorers along this historic path, you'll not only discover the remnants of a bygone era but also witness the enduring influence of these diverse cultures on the modern world. The Silk Road remains an epic journey that invites you to uncover the treasures of the past while forging new connections in the present.
Important Travel Advisory: Caution When Visiting Non-Democratic Countries Along the Silk Road
While the Silk Road offers a rich tapestry of historical and cultural wonders, it's essential to exercise caution when considering travel to certain countries along this ancient route. Many of the countries mentioned in the previous article are not democracies, and some have been associated with political instability, human rights concerns, and even hostage-taking for political reasons. Here are some key points to consider:
Xi'an, China: China is not a democracy, and the government maintains strict control over information and political dissent. Visitors should be aware of potential surveillance and censorship.
Dunhuang, China: Similar to Xi'an, Dunhuang is within China's borders and is subject to the same political climate.
Samarkand, Uzbekistan: Uzbekistan has made some political reforms in recent years but still faces human rights issues. Travelers should be cautious and informed about the local political climate.
Bukhara, Uzbekistan: Like Samarkand, Bukhara is located in Uzbekistan, and travelers should be aware of the political situation in the country.
Shiraz, Iran: Iran is not a democracy, and political tensions can lead to sporadic unrest. Travelers should stay updated on the political situation and exercise caution.
Istanbul, Turkey: Turkey has experienced political turmoil in recent years, including protests and government crackdowns. Travelers should stay informed about the local situation and exercise vigilance.
General Safety: In some of these countries, there have been instances of hostage-taking for political reasons. Travelers should stay informed about the current political climate, follow local laws and regulations, and exercise caution, especially in areas with security concerns.
Before planning a trip to any of these destinations, it's crucial to research the current political and security situation, stay updated on travel advisories issued by your government, and consider consulting with local authorities or tour operators for guidance on safe travel practices. Additionally, registering with your embassy or consulate and sharing your itinerary with trusted contacts can be helpful in case of emergencies.
While these countries offer unique cultural experiences, it's essential to balance your desire for exploration with a commitment to personal safety and awareness of the political and security environment. Travelers should exercise discretion and make informed choices to ensure a safe and enriching travel experience.