Barcelona's architectural landscape boasts a multitude of treasures, but among the most distinguished are Casa Milà and Casa Amatller. Situated harmoniously on Passeig de Gràcia, these adjacent marvels stand as exceptional representations of Catalan Modernism, a movement that revolutionized architectural design in the late 19th and early 20th centuries.
Casa Milà, affectionately known as La Pedrera, is an emblem of the genius of Antoni Gaudí. Unveiled in 1906, this structure embodies organic forms and whimsical creativity. Its undulating façade and fanciful balconies mirror the flowing rhythms of nature, while the rooftop serves as an ethereal canvas adorned with extraordinary chimneys and ventilation towers, evocative of a mythical dragon's spine. The architectural fusion of functionalism and fantasy showcases Gaudí's mastery in harmonizing aesthetics with practicality.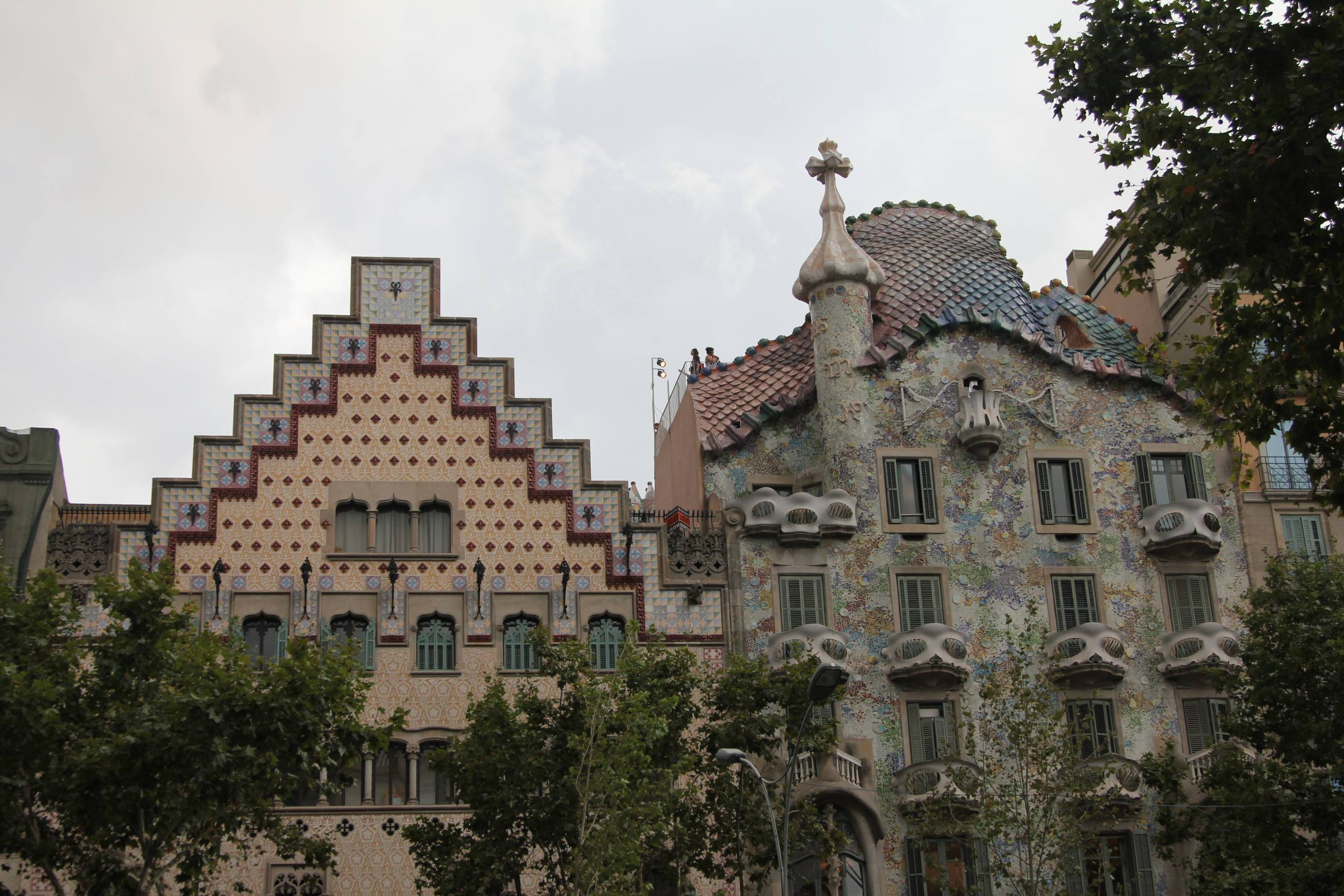 In juxtaposition, Casa Amatller, designed by Josep Puig i Cadafalch in 1898, showcases a more reserved elegance. Richly adorned with wrought iron balconies, exquisitely crafted stained glass windows, and meticulously detailed ceramic tiles, the structure radiates a refined opulence. The building seamlessly marries elements of Neo-Gothic and Modernist styles, demonstrating Puig i Cadafalch's prowess in uniting traditional aesthetics with avant-garde innovation.
Casa Milà and Casa Amatller stand as architectural symbols of the remarkable creativity that flourished during the Modernist era. The late 19th to early 20th centuries marked a period of immense artistic and cultural vibrancy in Barcelona, where architects like Gaudí and Puig i Cadafalch dared to challenge conventional norms and reshape the city's skyline with their visionary designs.
Beyond their architectural significance, both Casa Milà and Casa Amatller house captivating museums that offer insights into their creators' genius and the era's artistic fervor. Casa Milà's transformation into a museum dedicated to Gaudí's opus allows visitors to immerse themselves in the visionary's world, exploring the innovative techniques and inspiration that fueled his creations. Casa Amatller, on the other hand, houses a museum of decorative arts, offering a glimpse into the luxurious lifestyle of the early 20th century elite through its meticulously curated exhibits.
For travelers planning to embark on a Barcelona escapade, a visit to Casa Milà and Casa Amatller is nothing short of essential. Their joint recognition as a UNESCO World Heritage Site underscores their cultural importance and architectural excellence, making them indispensable sites for aficionados of design and history.
Here are some valuable suggestions for those seeking to explore these architectural gems:
Secure Tickets in Advance: Given their immense popularity, it is prudent to purchase tickets ahead of time to avoid missing out on these sought-after attractions.
Allocate Ample Time: Delve into the details of each building by setting aside around 2 hours for Casa Milà and approximately 1 hour for Casa Amatller, ensuring a comprehensive exploration.
Opt for Comfort: Given the extent of exploration involved, comfortable footwear is a must to fully appreciate the architectural wonders.
Capture the Beauty: The ornate beauty of Casa Milà and Casa Amatller deserves to be immortalized. Bring your camera to capture the awe-inspiring details and architectural nuances.
In anticipation of your visit, savor the distinctive splendor of Casa Milà and Casa Amatller, and revel in the artistic brilliance that has forever imprinted itself upon Barcelona's urban tapestry.